Knowledge is Power #2
In rural North Carolina it's not at all uncommon to see people burning piles fallen leaves during fall. There's no other way to get rid of them out in the county. But I didn't know that
inhaling the smoke from burning poison ivy will cause a reaction in your lung similar to the one that happens on your skin
. It's supposed to
hurt
. Rake carefully.
Pick your salad ingredients carefully as well, because
eating poison ivy can kill you
. That bit of info should be at least somewhat startling since
urushiol, the irritating chemical in poison ivy, is found in mangos
. It's in a much smaller amount, sure, but some people get a poison ivy-esque reaction from just handling the skin or sap. The fruit is safe to eat, though. So they say.
By the way: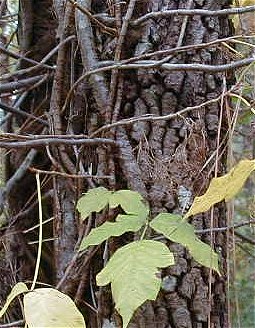 This is a picture of poison ivy.
This is a picture of jewelweed, which can be used to prevent or treat poison ivy. Note the obvious difference. It's basically safer to just rub them both on you.